War Heroes
Amongst the thousands and thousands of men and woman to be so thankful for, including both my granpdas, we also must remember the brave animals that fought alongside them.  Here is one story of a dog who fought in WWI
Introducing Stubby. That's Sergeant Stubby to you: decorated WWI Hero, friend to presidents & total looker.
In 1917 Stubby, a pitbull puppy with a "stubbed" tail, was living on the streets of New Haven, Connecticut near an Army training camp at Yale University.
A private named J. Robert Conroy adopted Stubby.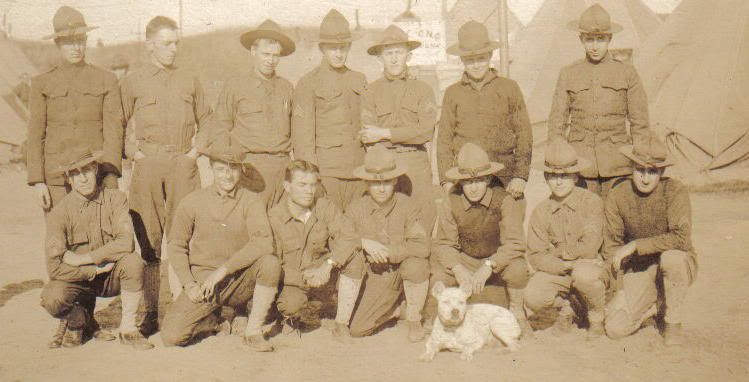 At camp Stubby learned to respond to bugle calls, marched with the troops and saluted fellow soldiers.
When it came time to ship out Conroy smuggled Stubby aboard the USS Minnesota in an overcoat.
A smart dog, Stubby learned the difference between English and German and used it to decide which wounded soldiers to help on the battlefield.
His language skills came in handy in France, where Stubby sniffed out a German spy, bit him on the butt and held on until help arrived. Good dog.
For this act of valor, Stubby became the first war dog ever promoted to the rank of Sergeant. (He now outranked Corporal Conroy but they never fought about it.)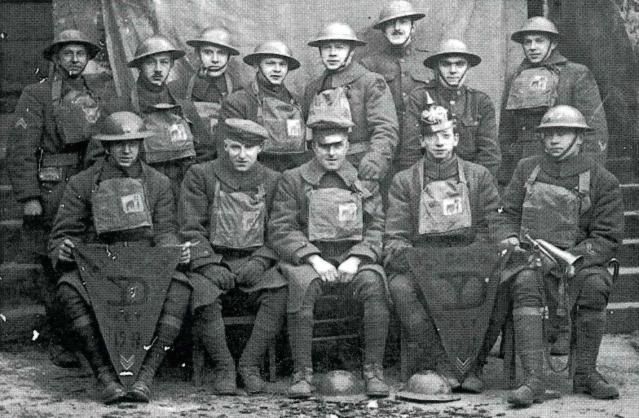 Mustard gas almost killed Stubby but after he recovered, he could detect incoming attacks and saved lives. Check out the Stubby patches his regiment wore on their gas mask packs.
In all Stubby served 18 months all along the Front, fighting in 17 different battles and four major campaigns. He survived shrapnel wounds and carried messages under fire.
General John J. Pershing, Commander of the US Forces, personally awarded Stubby a gold medal for heroism.
Stubby also earned a Purple Heart, the Medal of the Battle of Verdun and the Republic of France Grande War Medal.
After the war, Stubby was awarded lifetime membership in the American Legion, YMCA and American Red Cross.
Stubby met and charmed Presidents Woodrow Wilson, Warren G. Harding and Calvin Coolidge.
After the war Conroy decided to go law school at Georgetown. While Conroy studied, Stubby parlayed his fame into a sweet gig as the Hoyas mascot. (We told you he was cool.)
In 1926 Stubby died in Conroy's arms. He was so loved thatThe New York Times ran an obituary 3 columns wide and half a page long.
On this special day of rememberance, we'd just like to say
HAPPY VETERAN'S DAY, STUBBY!
and many, many more stories just like this…… "war dogs are treated just like their human buddies."
BADASS: War dogs are not new. They used them in armiesthousands of years ago. These are US Army paratrooper rescue dogs being trained in 1944.
U.S. Office of War Information photo
CUTE: Some start like this, as cute puppies in the Military Working Dog Breeding Program on Lackland Air Force Base in San Antonio.
BADASS: This is Rambo, an explosive detector dog assigned to the U.S. Air Force 447th Expeditionary Security Forces Squadron chomping on a soldier for training.
U.S. Air Force photo by Master Sgt. Cecilio Ricardo
BADASS: Dog and US Army Special Forces soldier jump to the sea off the back of a CH-47 Chinook helicopter.
U.S. Air Force photo by Tech. Sgt. Manuel J. Martinez
CUTE: "I'm so happy!"—these dogs are trained with positive reinforcement conditioning techniques. They truly love it.
U.S. Marine Corps photo by Staff Sgt. Robert Storm
CUTE: Two buddies resting. Explosive hunter dog Troy and U.S. Marine Corps Cpl. Derrick Magee on a patrol break in Afghanistan.
U.S. Marine Corps photo by Staff Sgt. Robert Storm
BADASS: First military dog-human tandem airborne jump from 12,500 feet.
U.S. Army photo by Sgt. Vince Vander Maarel
BADASS: Parachute opens!
U.S. Army photo by Sgt. Vince Vander Maarel
CUTE: You take your dog around the block. Senior Airman Stephen Hanks takes Geri around Sather Air Base's perimeter, where he pees on tanks' threads.
U.S. Air Force photo by Master Sgt. Cecilio Ricardo
CUTE: Staff Sgt. Erick Martinez carries Argo III over his shoulder. It's an exercise to build trust and loyalty between them.
U.S. Air Force photo/Airman 1st Class Allen Stokes
CUTE: Apparently, being carried makes dogs very happy. This is Reyana on Senior Airman Beaun Clegg's back.
U.S. Air Force photo/Senior Airman Gina Chiaverotti-Paige
CUTE: Not all war dogs are German shepherds. Here's eight-year-old explosives sniffer Springer after a helo ride.
Image by John Moore/Getty Images
BADASS: Dogs wear goggles too to protect their eyes. They actually call them doggles. Seriously, that's the actual name. The dog's name is Rico.
U.S. Air Force photo/Senior Airman Elizabeth Rissmiller
BADASS: More doggles action, because there's never enough doggles action. Ajax doesn't seem to mind them.
U.S. Army photo/Pfc. William Servinski II
CUTE: This is Panzer and US Army veteran Brad Schwarz, who suffers from post traumatic stress disorder. Panzer is not a war dog, but a service dog who helps war veterans.
Image by Scott Olson/Getty Images
BADASS: War dogs like to jump through car windows, just because they can.
U.S. Air Force photo by Senior Airman Stacia M. Willis
BADASS: Rangers and a multi-purpose war dog being awesome in the dark.
U.S. Army photo
CUTE: Mack and Senior Airman Gregory Darby. Just bonding.
U.S. Air Force photo by Staff Sgt Stan Parker
CUTE: War dogs love tennis balls. This is Coba, a 3-year-old chocolate lab and tactical explosives detector dog.
U.S. Army photo by Sgt. Christopher M. Gaylord
BADASS: Meki hoisted up to a medical evacuation helicopter in Alaska. War dogs are treated just like their human buddies.
U.S. Army photo by Staff Sgt. Matthew T MacRoberts
BADASS: War dogs even give blood to save their fellow canines. Here's Carly M745, a security forces K-9 being sedated to have blood drawn on July 3.
US Army photo by Tech. Sgt. Caycee Cook
SAD: War dogs die too. Rony was a patrol dog for President Barack Obama and Vice President Joe Biden before dying on March 8, 2012.
U.S. Air Force photo by Tech. Sgt. Vanessa Valentine
CUTE: Liaka, a Dutch shepherd, quietly receiving instructions from her handler on a mission in Hadar, Baghdad.
U.S. Navy photo by Petty Officer 2nd Class Todd Frantom
CUTE: Search and rescue dog Ronnie high-fiving U.S. Air Force Capt. Greg Auerbach, an KC-135 Stratotanker aircraft instructor pilot with the 54th Air Refueling Squadron.
DoD photo by Senior Airman Leandra D. Stepp, U.S. Air Force
CUTE: Two airedale terriers, one wearing a special gas mask and the other carrying rations for a wounded soldier in World War II
Fox Photos/Hulton Archive/Getty Images
BADASS: When they are done with their mission, war dogs need to extracted too. Here are some Navy SEALs demonstrating a Special Patrol Insertion/Extraction with one of their dogs.